SANADIGE??WHAT DOES THAT MEAN? WHAT DO THEY SERVE? WOW, THERE'S A LOBSTER ON BANANA LEAF IN THEIR FEATURED IMAGE… AH, THE DESCRIPTION SAYS SEAFOOD, NORTH INDIAN, MANGLORIAN… EH? LOBSTER IN NORTH INDIAN?? 4.7 RATING? I GUESS I SHOULD READ MORE…
Well, these were the thoughts that rushed through my head as I scrolled through Zomato for someplace interesting, in Chanakyapuri. Looking at the online menu and the highlights of the restaurant, it occurred to me that there was a dichotomy in the restaurant's positioning, and they're probably suffering from an identity crisis, and unable to showcase its actual must-visit-for side!
I was absolutely right, as my lunch here today proved.
LIKE MANY SPECIALITY RESTAURANTS I'VE SEEN COME UP IN THE DELHI NCR, IT LOOKS LIKE SANADIGE IS PLAYING TO THE POPULIST GALLERY BY HIGHLIGHTING NORTH INDIAN FOOD, CHEAP BEER, AND IPL SCREENINGS – WHEN ITS TRUE SPECIALITY AND WORTH, IS ITS MANGALOREAN (AND) SEAFOOD!
The Sanadige menu showcases a wide variety of south Indian food, not restricted to Mangalore or Seafood. It also offers interesting chicken, mutton, and vegetarian dishes.
Being a purist, I decided to go for one cuisine, and since I wasn't sure of how the food would turn out (despite the high Zomato rating) I ordered what I usually do at times like this – I ordered the Thali. Fish for my friend, and a Mutton Thali for me. This way we'd get a taste more things than we could if we ordered individual dishes.
I resisted the temptation to gorge on the scrumptious chips and delicious condiments they placed on the table as we sat down, since I wanted to save my appetite for the main course…
I am glad I did, because the Thali is huge! It contained two dry fish and mutton dishes each, and one curry of each as well. The thali also had buttermilk, rasam, pickles, chutney, a vegetable dish, rice, and two fluffy portions of Sana – which are like idlis, only thicker.
The mutton and fish curries that held centerstage in the thali were light and fragrant, but not outstanding. The vegetable dish was a bit over-spiced for my taste, but I guess its okay, coz a lot of south Indian dishes tend to OD on spices like curry-patta, and pyaaz.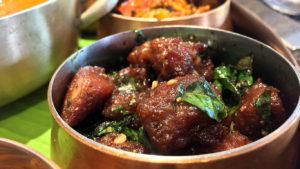 However, the sukka mutton pepper fry was outstanding. Soft and succulent with a delicious taste, it made the meal and visit to Sanadige totally worthwhile for me.
In the fish thali, the crumb-fried surmai (king fish) was outstanding, as was the "naked fish" (!?).
For me, the true test of a restaurant and its chef, isn't in the masalas or the presentation… it is in how well the meats are cooked – hard enough to feel its texture, soft enough to eat with pleasure. And that's what I got at Sanadige today.
Most Indian restaurants and chefs fail on this front, and dish out meat that's usually overcooked and hard/dry/stringy. Methinks this is particularly true of north India, and many north Indian dishes. Which is perhaps why we have malai tikka and reshmi kebab to compensate, and remind the chef and foodie, that not everything has to be masaledar and dumdaar!
Which is why I didn't even look at the North Indian food section at Sanadige. Don't think I ever will.
The decor of the place is good, the seating and tables are comfortable. The staff was friendly from the moment we entered, all through service and our meal, and never let up on the smiles, or efficiency 🙂
All in all, I'd say this is a great place to go for south Indian and seafood. Besides what we ate, what I noticed going to other tables, and the aromas that wafted out of the kitchen, all point in that positive direction.
My recommendation to the management – drop the north Indian part, and become a high-end south Indian non-vegetarian/seafood restaurant. Outside of the 5 star hotels in the city, I don't think we really have one today, and from the little taste I got – you could be the best!
---