Bob's Place in Nathuakhan, is an old favourite, that helps us enjoy the beauty of Uttarakhand, in style! My family and I have stayed here many times, since 2010, as it gives us a unique experience of Uttarkhand, in style. In its own unique and classy style.
Hotel, Resort, Getaway in the Hills.
You cannot categorise Bob's Place exactly, because it offers more than what traditional definitions cover. I think it is whatever you want it to be. For me, it is simply a wonderful getaway in the hills of Uttarakhand.
A room… a cottage… a suite… no, it is Bob's Place
Filled with elegant and eclectic furniture, and high-quality furnishings, the rooms, cottages, and suites (we've stayed in all of them over the years) at Bob's Place are tasteful and comfortable.
Whatever type of accommodation you get here, you'll always find something different and interesting to enjoy. All the accommodations are different in style, but offer the same comfort and amenities across the estate.
Paintings, artworks, furniture, and furnishings, are different in each of the ten options that Bob's Place offers to stay in. What you will find in common, is a comfortable bed, a nice sitter with a large window to enjoy the view, a wood-fuelled chimney for winters, heaters in winter, pedestal fans in summer, in-room coffee/tea makers, and well-appointed bathrooms with 24 hours hot water, fresh towels, and great quality toiletries for those who left theirs at home.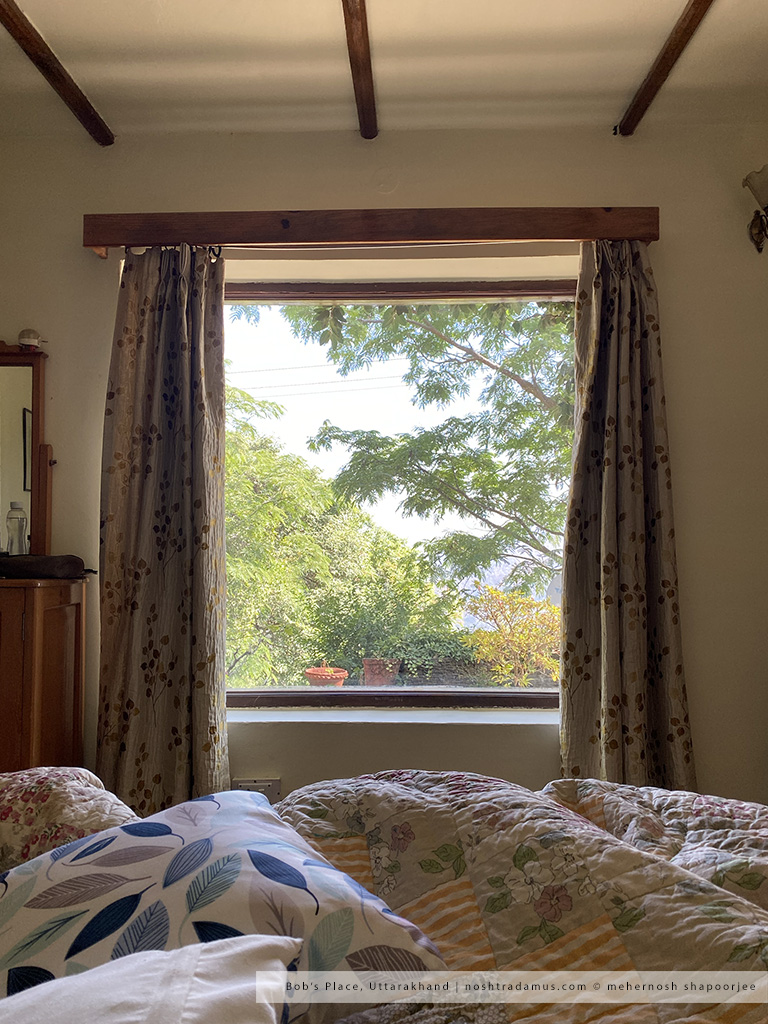 Nature is all around, at Bob's Place
Being in the middle of a forest and on a hillside surrounded by nature, the place has a charm you won't find in modular modern hotels around here.
Be prepared for surprise visits by langurs, dogs, cats, birds, and insects, that give you a taste of life in the mountains. A walk around the estate also reveals interesting flowers and trees that the owners have planted over the years.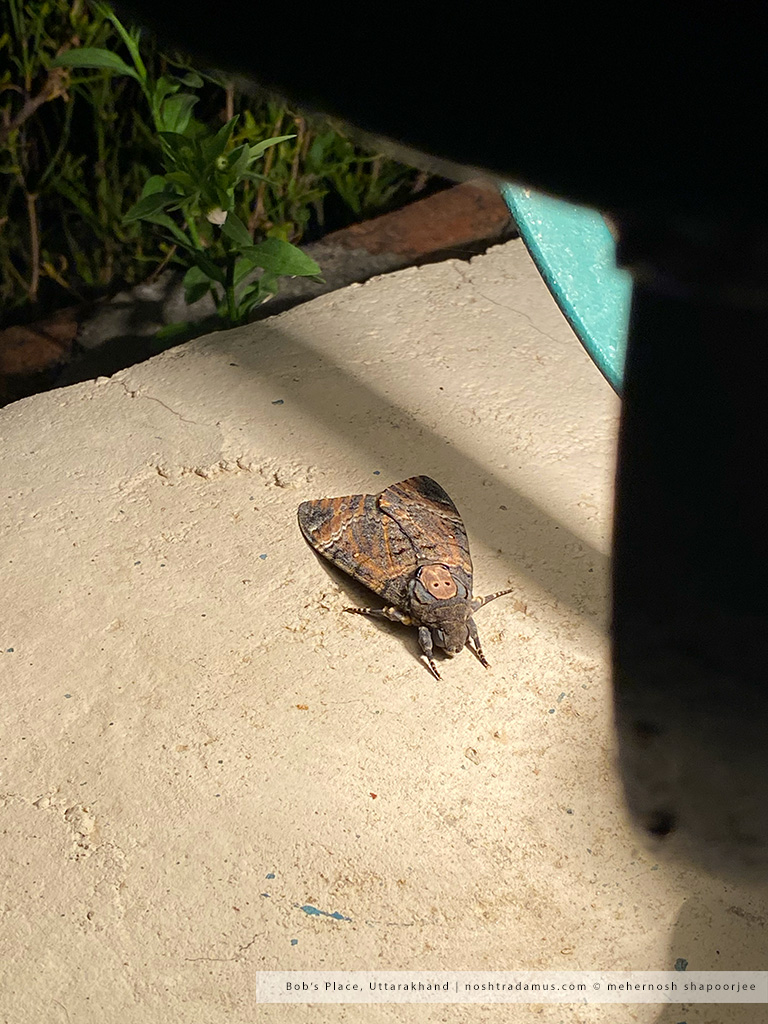 Bob's Ghar Ka Khana
You can say the food at Bob's Place is ghar ka khana, if you typically have a five-course meal at home, with accompanying desserts, fruits, and beverages in every meal.
The meals here are generous buffet-style, with plenty of vegetarian and non-vegetarian options to choose from in every meal. They serve breakfast, lunch, evening snacks, and dinner, in the common dining area. Morning tea/coffee and evening snacks are served in the rooms, but I'd recommend you make use of the open-air sitters that are outside every room.
The Chef is always open to suggestions, customizing meals for regulars, and guests who appreciate the staff's efforts of putting together delicious multi-course meals out here!
The Staff and Service at Bob's Place
The staff and service at Bob's Place are friendly and efficient. That being said, like anywhere else, a little courtesy by guests towards staff anywhere will go a long way in helping them make our stay here wonderful.
I make a point of saying this here because I've noticed most city dwellers are insensitive and rude to service staff. The staff here won't say anything, nor will they mess with your service. But you'll simply feed the horrible reputation we city dwellers, especially the ones from Delhi have, of being really horrible tourists who are only tolerated because they're paying for the services offered.
Bob's Place Review Summary
This is not really a review, but a summary of learnings I've had while enjoying the beauty of Uttarakhand, in style, thanks to many great stays at Bob's Place. All I can say in summary is, like in all hill stations and hotels on mountains, we get back from the place the same sentiment that we put into it. Bob's Place is one of those places, where the more open you are to the thoughtful experience designed by the management, the more happy your stay here will be.
Getting to Bob's Place
357 kilometres from Gurgaon, the best way to get to Bob's Place, is by road, via Haldwani + Jeolikote + Bhowali + Ramgarh + Nathuakhan. Google Maps will by default route you via Bhimtal, but that is the worst thing you can do. Bhimtal is usually a mess of traffic on narrow roads. The only possible traffic jam you'll find on the route I recommend is at Bhowali, but the cops at Bhowali are efficient and keep things moving, so you won't get stuck for long there, unlike at Bhimtal where the wait could seem endless. Of course, you will have to deal with the stupid drivers from Delhi, UP, and Haryana, on any route you take!
You could take a flight to Pantnagar airport, or a train to Kathgodam, and then get a Taxi to Bob's Place. It is approximately 100 km from Pantnagar, and approximately 70 km from Kathgodam, but it will probably cost you more for the ride from the airport or station than it would cost if you drove up to Bob's Place and returned in your own car from Delhi NCR. Taxis in the hills are ridiculously high-priced, and it is quite likely you will get a terrible rash, speeding driver to make your journey in the scenic hills a scary cliffhanger, literally.