OLLY, the All Day Cafe & Bar in DLF Cyberhub Gurgaon, is one of the oldest restaurants there. I've been there many times, so this review comes after multiple visits. And while my photos may be from my recent visits, my review of OLLY is based on many visits.
The service at OLLY hasn't always been as good as I find it nowadays. It has improved in the past couple of years, from the time when I felt that the staff was snooty, and was selective in its courtesy to customers. I also felt that with age, the restaurant had started showing signs of neglect.
Thankfully, all that has changed now, and the place has a nice clean vibe, and the service staff is attentive, friendly, and efficient. The food, as always, is great!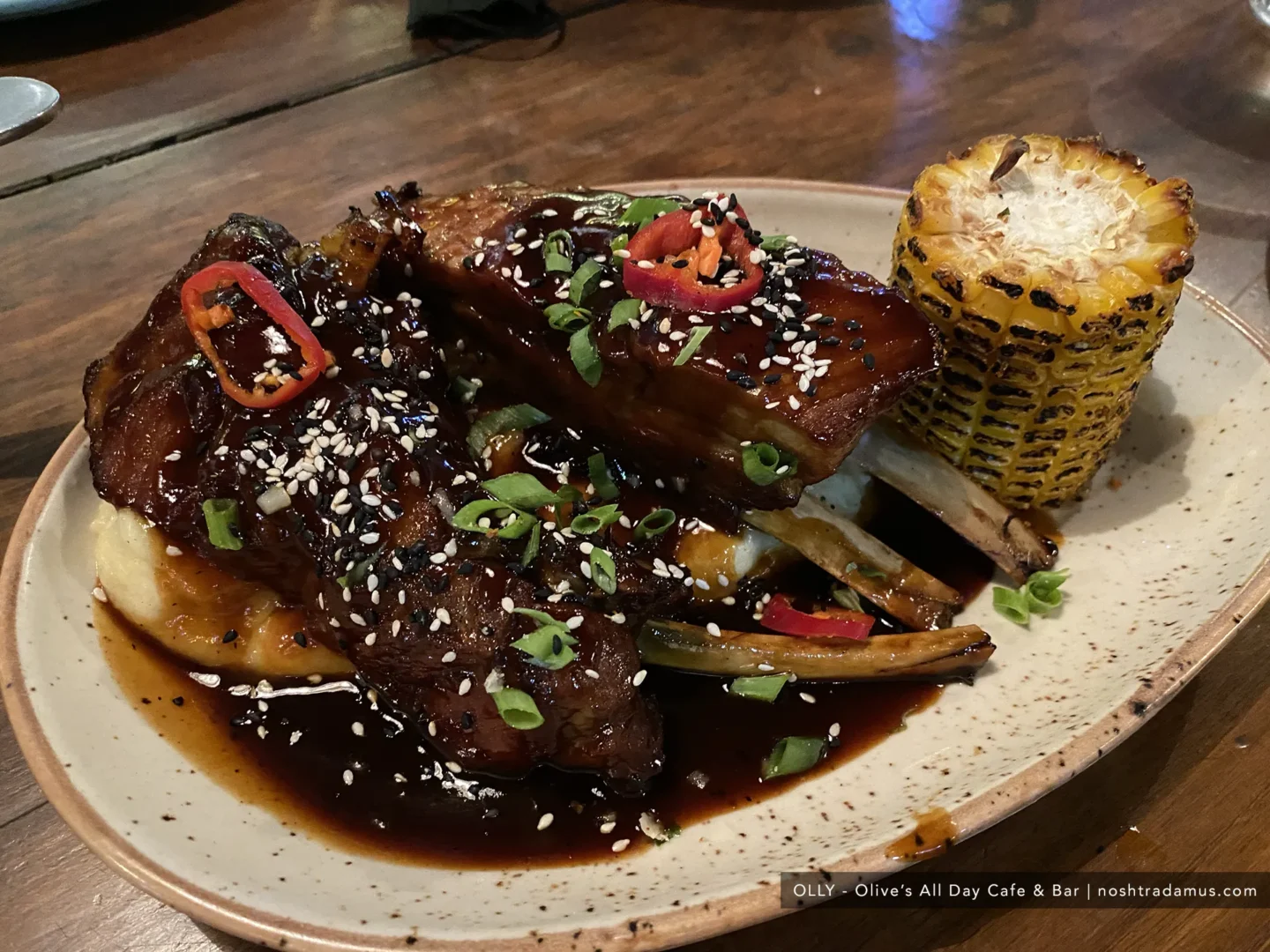 My review of OLLY All Day Cafe & Bar
The Menu at OLLY offers many delights, and I struggle with having to choose just one or two. So, I make it a point of going there in a group of at least four people, so we can order more dishes, and everyone can taste different things from the Menu.
OLLY has some great pizzas and salads, to begin with, and if you want a drink or two, the bar is generously stocked too!
While you spend time choosing or waiting for your drinks and food to arrive, there's always nice music playing at OLLY, for you to enjoy.
---
My Review of the Food at OLLY All Day Cafe & Bar at DLF Cyberhub in Gurgaon
Great Pizzas, Salads, and Entrees. That's how I'd sum up the food at OLLY. But this is based on my personal food preferences, not on what the Menu has to offer, which is a lot more.
But whatever I ordered over the years, always felt like it was made from fresh ingredients, and that added to the joy of indulging in the food here.
My personal favourites are shown in the photo gallery above. Pizzas with rocket leaves, salads with complex flavours like mozzarella and watermelon in one, and my personal favourite meat and cut – pork spare ribs and chops!
I can happily say, the taste of every dish is authentic and the way it was traditionally intended. I don't expect fusion or experimental dishes here, and I find great comfort in that. The servings are also very generous and filling, which is another plus for me when I am eating out.
The Decor at OLLY – All Day Cafe & Bar
In my view, OLLY is very basic in design and comfort. It's not something that stands out and makes you say "wow" but it doesn't hurt the eye or body either. In fact, I struggled with my memory, of what the place looked and felt like when I started writing this path. But what I do remember, is that the outdoor seating and space are more lively and fun, that the space inside. In summer, you also get to enjoy the cool mist sprays that DLF has installed all over Cyberhub, including some above the outdoor seating areas at OLLY.
The Service at OLLY Cafe & Bar:
The staff at OLLY, from the people who welcome you at the entrance, to the people that take your order and then serve you the food, are all friendly and efficient.
In Summary: My Review of OLLY:
OLLY has become one of my favourite restaurants, or as OLLY calls itself, one of my favourite cafes and bars in DLF Cyberhub. I go there for the music, the food, and the service, all of which add up to giving the place a great vibe. One that brings me back, as they say in Hindi, bar- bar!
Overall Rating: 5/5
…