#IndiaAt75. I first heard of this ambitious development plan in 2012, from Bhairavi Jani, who was the first Executive Director of the India @ 75 project, visualized by the late Prof C.K. Prahalad, and adopted by CII for implementation, as The People's Agenda.  
At that time, Consulting Firm BCG, and the erstwhile Planning Commission, were involved supporting CII in giving it shape. I was invited by Bhairavi to develop its marketing and public relations programme. I was honoured and proud and promptly put together a great team to work on it, pro-bono, in the interest of nation building!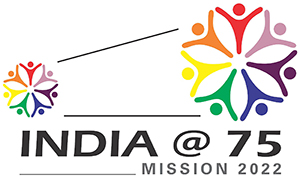 Over the next few months, we designed a new logo, the visual identity for the programme, and articulated the seven pillars that were to be built and/or strengthened, from the original vision document, as crystallised by Bhairavi and the team at CII. 
It was also very clear to all involved, that a multi-stakeholder development plan of this scale would need widespread awareness, massive outreach, and multi-stakeholder engagement like never seen before in India, or anywhere else in the world. 
CII and the India @ 75 team had already put together an impressive Board of Trustees with participation from leaders of Indian industry and professionals from various fields and expertise. The core working council included successful, passionate individuals who met frequently to share ideas and begin work on building the India of the future. 
The India @ 75 programme envisioned, was the most comprehensive plan I'd heard of until then, that not only suggested 'hardware' and infrastructure needed to build a solid and sustainable economy, but it also envisioned the 'software' and mindsets we need to build a powerful and vibrant nation.  
The seven pillars of progress in the India @ 75 vision are: Agriculture and Food Security, Arts Literature and Sports, Business and Economy, Education and Skills, Environment and Urbanisation, Innovation and Technology, and Moral Leadership. 
Plans were outlined and goals were set for each of the pillars, and we the people, had 10 years to work on them. The first initiative with City Connect started, and a National Volunteering Grid was launched. It seemed like we had enough time to make it happen, by 2021-22! 
Which brings me to this, our 75th Independence Day today, and the trending #IndiaAt75 hashtag on Twitter, and the variations of the India @ 75 logo in government ads across publications and in social media posts. 
I look at them, and then I look back at the vision that was shared, and the plans that were made: "In 2022 we wish to have an India that will actively shape the new world order through Economic Strength, Technological Vitality, and Moral Leadership." 
I ask myself, and I ask you: Are we there yet? 
#IndiaAt75 provides a great slogan for our bi-annual show of patriotism. It is clearly an indicator of our country's age. But it is not a showcase of the state of the nation, yet. 
If you are to believe the stories that show up in various media, then, pandemic blip aside, we're a happy nation with a booming economy, with growth in every sector, thanks to visionary leadership at the centre. 
Note, I am neither being sarcastic, nor am I endorsing anyone. I am simply stating what appears regularly as news and industry reports, in response to any talk of 'things not being good here'. 
If you read the original India @ 75 vision document and plans, you will see we're far from achieving them.  
This is not to say that no progress has been made in India over the past decade. I'd say there has been a lot of progress, but I think it has little to do with the India @ 75 plan.  
The progress we've seen has more to do with a) the momentum from past governments (both UPA and NDA), b) private sector initiatives, and c) new plans and policies of NITI Aayog and the current Government of India. 
I mention NITI Aayog, because since 2018, NITI Aayog has also put its weight behind the strategy for India @ 75, and that Prime Minister Narendra Modi also endorses it. 
Despite being so closely involved with India @ 75 in the beginning, I thought that the movement no longer had any owners, and that it had died out over the years. So, I was pleasantly surprised to see it being revived in public consciousness recently. 
NITI Aayog has come up with some great ideas over the years, my personal favourites being Startup India, Standup India, and more recently the policy framework for Online Dispute Resolution to enhance the ease of doing business in India. 
Similarly, the current Government has proven to be a master of packaging simple ideas, and turning them into evocative people's movements.
What's more, when the PM himself talks about a programme, it soon becomes a buzzword across the length and breadth of India. Swachh Bharat, Beti Bachao Beti Padhao, and Digital India, for example.  
Sceptics may say these programmes address basic issues, not big ones, and I disagree. The fundamental thinking behind Swachh Bharat, Beti Bachao Beti Padhao, and Digital India, if implemented right, will strengthen and empower the backbone of our nation, which is its people. If implemented right.  
Now we all will agree, ideas come easy and to anyone, but it takes a village to raise the idea.  
So, without further debate on the merits or demerits of Government of India and NITI Aayog's landmark programmes, I'd suggest we look at how the vision and goals of India @ 75 can be met sooner, than later. 
NITI Aayog's strategy document for India @ 75 is solid. You can argue it misses several key areas for development mentioned in the original vision; especially those to do with non-business areas like Arts and Literature; and what for me is most important – Moral Leadership. 
But then I might suggest in the interest of positivity and hope on this Independence Day, let us just say that the document is a great start, and that we will all contribute to making it and the road ahead better. 
We'll all agree, that a massive nation building idea like India @ 75 needs mass endorsement and participation, which can only happen with evocative branding, mass communication, and widespread engagement offline and online, which the India @ 75 programme currently lacks.
So let us say, we put the same amount of effort and resources behind the vision and goals of India @ 75, as was put behind any of the big five programmes of this Government.  
Imagine what half the marketing budget of Swachh Bharat could do, to get the people of India to understand the spirit of India @ 75, and have them volunteer and say "Count Me In!" 
Imagine what participation of the Private Sector, could do, if we developed an India @ 75 Fellowship, like the Times of India did with the Teach India movement. 
If all the public sector and private sector initiatives and development programmes suddenly came under one umbrella, imagine the incredible focus and energy they will gather behind India @ 75, as truly a People's Agenda! 
As I wrote earlier, a multi-stakeholder plan for reform and development like this, requires widespread awareness and massive engagement.  
The Government of India has the convening authority and the budget, NITI Aayog has the credentials and the plans, and we the people of India have the ability to pull it off together. 
The question is, are we willing to do something about it? Or will we simply reconvene on this day next year to #celebrate #IndiaAt76? 
Think about it. 
#JaiHind