A couple of days back, in a conversation on Instagram with LA Food Guide Jeff (Foodmento), I mentioned that foodies in Gurgaon can indulge in authentic Japanese and Korean food, at restaurants that serve awesome dishes cooked with fresh-off-the-boat ingredients including seafood, from the far east. Yesterday, I got to enjoy another such meal at another awesome Japanese restaurant in the millennium city!
What to expect, for starters.
The menu at Ebisu is quite elaborate, with quite a variety of everything from Japanese starters, grills, salads, and mains, to an appropriate mix of alcoholic beverages to choose from.
The staff was quick to take our orders, and the food we ordered started arriving at a comfortable pace for us to enjoy. Although (note to the restaurant) it might have been good for the staff to enquire in what sequence we'd have liked to have had the dishes.
Overview of the food, and my personal preferences.
Pork is my personal favourite meat/protein, and the friends my wife and I were out with (Nandan and Payal) also love Pork. And delightfully, Ebisu has a wide range of pork dishes to choose from.
With a mix of pork dishes, maki, sashimi, and gyoza, lined up, to begin with, I had my eye on some mouthwatering mains to complete the meal with. But that was not to be the case, as our first round of food was so good and filling, we didn't have any place left for any of the mains. In fact, one of the grills (the pork belly with teriyaki sauce) was so good, that we decided to end the meal with another round of it for all four of us!
How was the food? Well, I'd say it was truly fine (v) Japanese fine-dining! As usual, I took some photos, which are shared below, along with my view of each of the dishes 🙂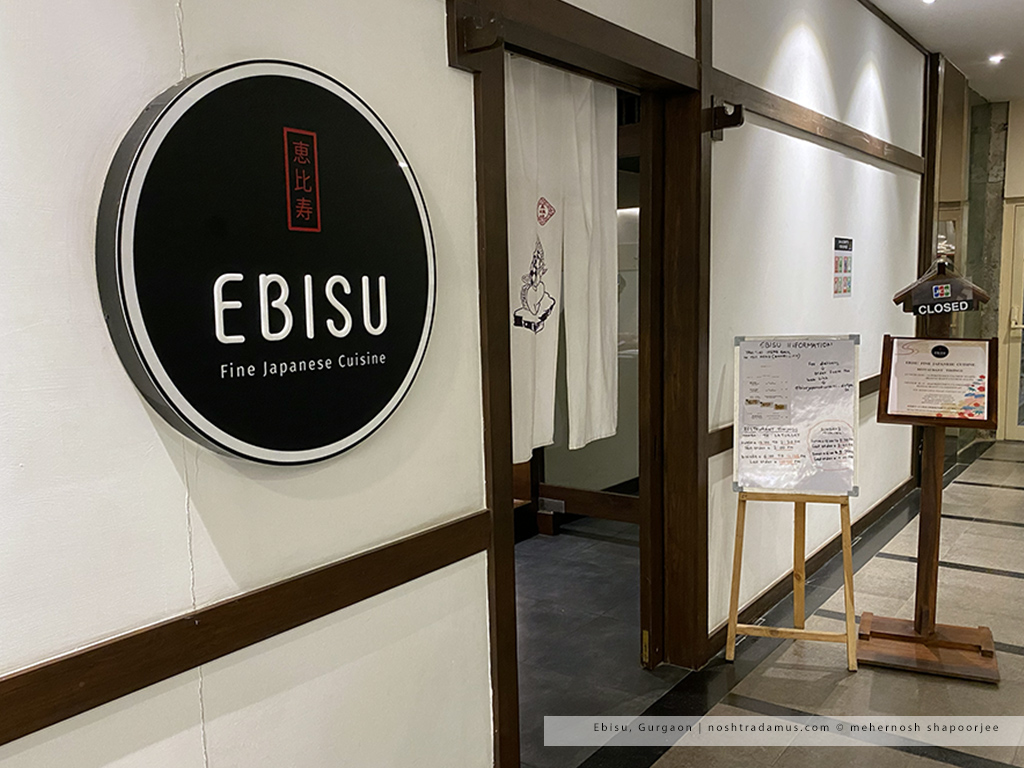 My Review of the Food at Ebisu Japanese Fine Dining
Grilled Pork Belly with Teriyaki Sauce (2 skewers of 3 bites each to a plate): With a delightful balance of fat, meat, and flavouring, this was truly outstanding! It also had a uniquely flavoured yellowish wasabi, which I must admit I tasted for the first time. This is why we ordered another round of this, to end our meal with. Rating 5/5
Tuna Sashimi (7 cuts of raw Tuna): I loved the freshness and texture of the cold Tuna that was served with the strands of radish and slices of cucumber and carrot! Rating 5/5.
Buta Syabu Salad: It was filled with soft and delicious thinly sliced and boiled pork belly, with radish, cucumber, and tomato! It also had a yummy sauce served separately, but I chose to leave it aside and enjoy the natural flavour of the salad minus the sauce. Rating 5/5
Age Gyoza Yu-rin Chi Sauce (6 to a plate): We didn't realise these were deep-fried and that they have a grilled option too. Each of the minced pork gyozas was very filling, but the best part of this for me, was the accompanying shredded vegetables in sweet and sour onion sauce! Rating 4/5
Ebi Ten Maki: The prawn tempura maki was average, and a suspect it wasn't made to our order, but was already prepared and waiting to be served when someone asks. It wasn't bad, but I've had better, even from the non-fine-dining places. Rating 4/5
Salmon Furai Maki: Deep-fried in breadcrumbs the salmon in the maki didn't come across as salmon. In fact, we called the waiter back to ask what it was, even after tasting it. Overall, the taste was decent, but not discernable. Rating 3/5
Ebisu, the place
At first glance, Ebisu looks like most of the other Japanese and Korean restaurants in the city. With its choice of regular wooden tables (for the newbies, and those in a hurry), or sunken wooden floor seating (for those who want a leisurely, authentic dining experience), surrounded by moving wooden panels and screens all around, the decor is functional and unremarkable. The photocopied physical menu is also typical of Japanese and Korean restaurants in the city, with grainy photos of the dishes, along with the Japanese name and English description of the dish with its price listed alongside. But that's where the similarity with other far-east cuisine restaurants ends.
The Service at Ebisu
The service here is the fastest I've experienced in all of the Japanese and Korean restaurants I've eaten at. The staff was alert and polite, but perhaps need a little more knowledge about the food they are serving. It will help customers unfamiliar with the food, and in choosing variations available in dishes here.
In Summary
Ebisu is a great place for Japanese cuisine if you love Japanese pork. But this view of mine is purely based on the dishes we ordered.
I plan to return and try out more of the dishes, and add to this review when I've also tasted their mains.
Each of the dishes we tried was generous, in size and quantity, so everything was not only filling, it was great value for money.
The Final Verdict
We loved the place, and will surely return for more memorable meals here.