Yesterday, we went to Ambience Mall for lunch, for the first time after the Covid19 pandemic hit, which is after over two years! Our destination: "You Mee" an Asian restaurant that showed up on Zomato, when I searched for "Japanese" cuisine. Further inspection revealed it was an "Asian restaurant", that also served dishes from other parts of the South East and Far East of Asia. Which was good, since we loved all Asian food, and could do with variety.
When we reached the restaurant, I realised #YouMee had replaced an old favourite #Asia7, on the 3rd Floor (Food Court level) of Ambience Mall. I had mixed feelings because I had over the years loved the food at Asia 7, but had also seen the quality of its food and service drop over the years until we stopped going there. I had a feeling that the place belonged to the same owners and management, that had realised its decline, and reinvented itself.
The restaurant was packed, and even though all the staff seemed very busy, one of us spotted us immediately, and told us with a welcoming smile, that there would be a 5-minute wait, but he will get us a table.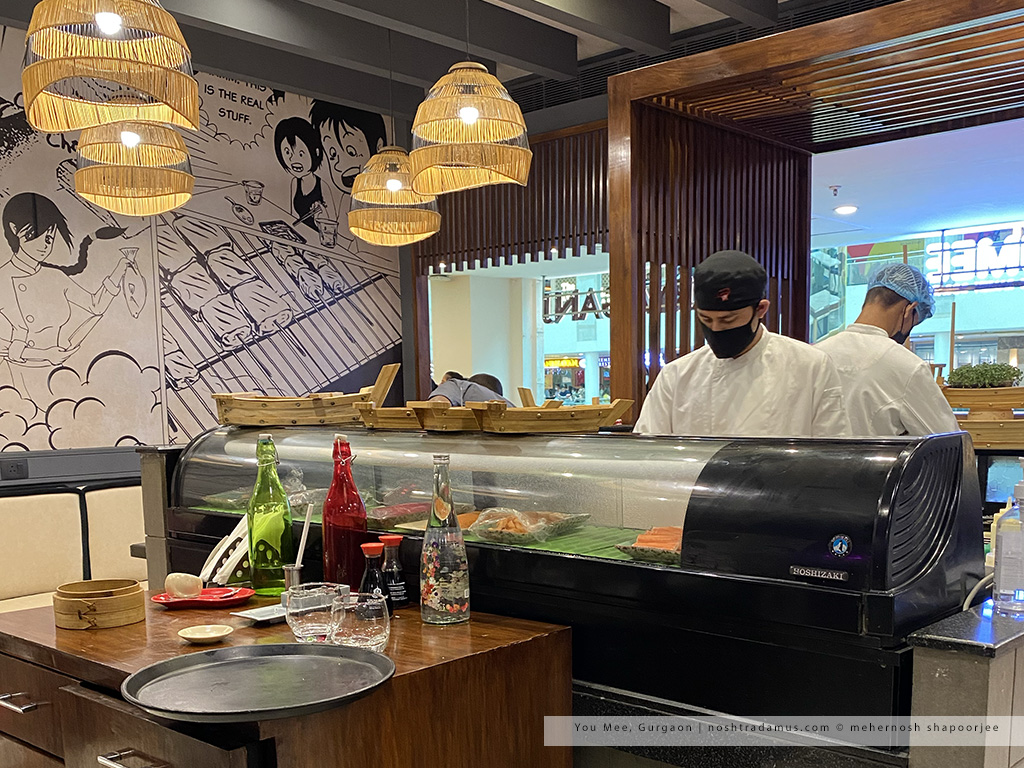 As we waited, I noted the live sushi counter, and the ingredients laid out in a cooling tray. I engaged with the Chef as to what was what and liked the way he responded explaining what was what. Sushi immediately went up high on our list of must-order.
The Menu at You Mee is quite elaborate and included a nice range of alcoholic beverages. Each of us ordered a different drink, while we explored the menu.
The range of Sushi and Starters caught our interest, so decided to focus on them, and then order mains, if we were still hungry.
The drinks arrived quickly, and even though the waiter said the food would start arriving in 25 minutes. The wait didn't seem that long as the buzz of the place was great with all kinds of guests seated at different tables. Many of the guests were also getting up to take photos of the place, particularly of one wall that had illustrations and a neon sign that is prominently featured in the restaurant's Zomato profile. I didn't take a picture of it.
When the food arrived, it didn't seem like we were made to wait at all!
---
My Review of the Food at You Mee Asian Restaurant, Gurgaon
Sushi Platter (12 pieces with 3 Sushi options of your choice, served in a Sushi Boat): The three we had were 1) Hamachi New York Dragon which is a mix of Hamachi Tuna, Tempura Prawn, and Salmon with Avocado and Spicy Mayo, 2) Salmon Aburi, which is basically smoky salmon with Unagi sauce, and 3) Crunchy Tuna Roll, which is well, a crunchy tuna roll.
All three were quite tasty and filling, but the point to note is that I felt the Sushi here is heavier on the palate and tends to feel more like the heavier/larger Korean Kimbap than the sushi you get in Japanese fine dining. Yummy nevertheless, for this desi diner! Rating: 5/5
Char Siu Pork Belly (7-8 slices to a plate): Not a Japanese dish, but undoubtedly the yummiest thing that we had in our meal. It is served with minimal sauce, with an extra bowl of Char Siu sauce on the side, I thought this was a nice touch added for diners like me to flavour it as per my taste. Rating: 5/5
Butter Garlic Calamari (a generous plateful): These deep fried crispy-crunchy Calamari were served generously, just lightly flavoured with salt and pepper. I thought it made a great aside flavour, and you could order it if you're having an extended drinks session. It would be underwhelming as a standalone dish. Rating 5/5
Sichuan Chili Oil Chicken Wontons (6 to a plate): I think I took the Chili Oil bit lightly when choosing this dish, but the Chef took the Chili Oil bit quite seriously and generously. The result was we were overwhelmed by the chili and had to water down each Wanton before eating. Order this only if you have a super appetite for hot Chili. My (subjective) Rating: 3/5
Thai Green Curry (Served on a dish-warmer with a red hat!): The starters filled us up, but we needed something to offset the hot chili in the Sichuan Wantons. So we ordered plain sticky rice with Thai chicken green curry, which turned out to be sweet but yummy, and helped calm our scalded taste buds. The dish had lots of chicken, but could have had more bamboo shoots, and some Thai lemon leaves. The aubergine (?) masquerading as chicken slices could have been cooked a wee bit more. Rating: 4/5.
Monte Cristo: This was the only dessert left on the menu when we wrapped up our meal, so we ordered the remaining plate of it. It turned out to be light and tasty, but could have done with a little more chocolate sauce in the middle. Rating: 4/5
The Decor at You Mee
The place seems crowded at a glance, but when you're at your table and engrossed in the food, the feeling of ample space and privacy takes over. The tables are decent sized and the chairs comfortable. The lighting is perfect if you want to take photos of the food. It is not a place for a serious/first date or a romantic/lazy meal. But one of those places you go to, for the food.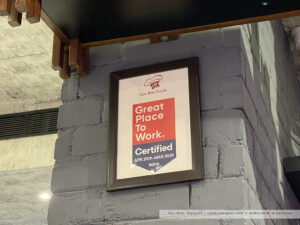 The Service at You Mee:
Just beside where we were seated, I noticed a board that said "Great Place to Work" certified. I believe that is the case at You Mee because the service here was excellent, and all the staff members were going about their work with a smile. This positive energy is unmatched in most of the restaurants I've been to post-pandemic. Kudos to the management, and a huge "thank you" to the staff at You Mee, for the delightful lunch we had with you.
In Summary: My Review of You Mee:
I think You Mee will become a regular go-to place for me at Ambience Mall. We went there for Japanese, but even though we didn't try out anything Japanese besides the Sushi, I'd go to it for a wide range of Asian dishes, and experiment with more items on the menu on subsequent visits.
Don't expect a fancy dining experience, but I'd go here for tasty food and great service!
Overal Rating: 5/5
…