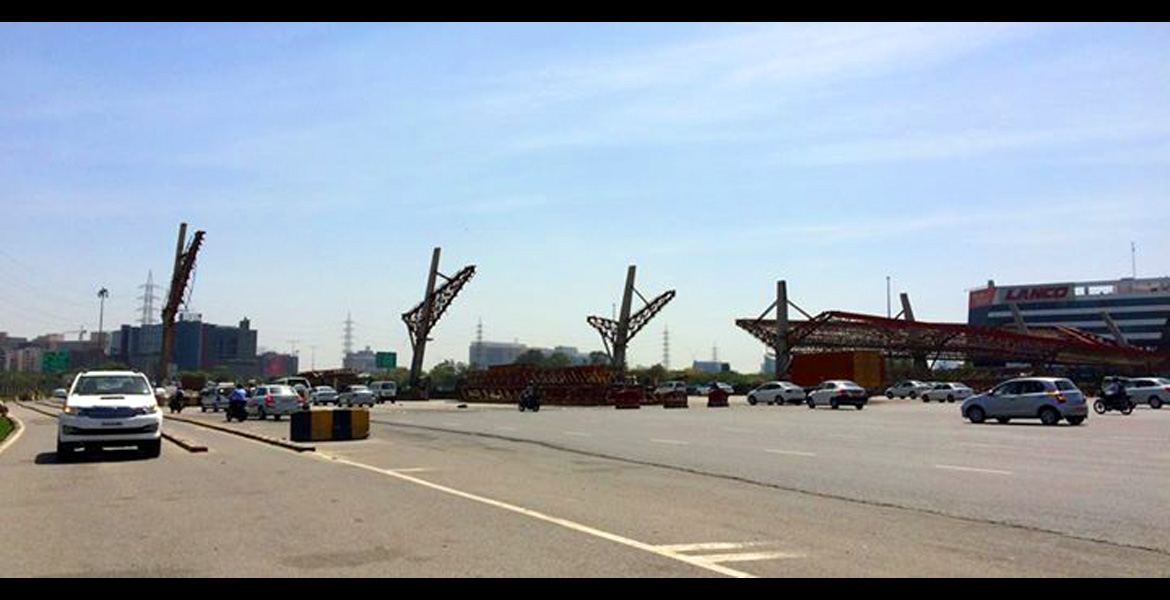 Note: This article was originally published on 28th February, 2014.
As the much criticised, and very choked up Delhi Gurgaon Toll Plaza was removed this week, people of the NCR honked in protest, saying that the move is not fair, and this will cause great hardship to the common man, and have a negative impact on daily commuters.
Wankit Sharma (name changed to hide his silly real name) explains "Myself drivings daily from Dehli to Gurgawan. Earlier I used to get much prides in jumping lanes and overtaking into tag lane without tag in myself car. This was everyday accomplishment, which is making me sleep better at nights previously. Nowadays I not get the feelings, so sleep not happening properly at nights."
Jignes (no surname) elaborated on this point: "You see, Gurgaon Toll Plaza has 32 lanes. This means we have 32 choices, officially. But like a video game, we all try to make many more lanes as possible. Whoever create new lane, he be first in that lane and winning lots of gaalis from other loser drivers. Once we even created totally 96 lanes at one time only. Creating lanes also gives us pride of being like Columbus explorer who discovered America!"
Kumar Bhankas (name not changed, really) blames the system "What idiots designed the Toll Plaza? They've left a total waste of space in between the lanes. Why make one lane, when there is easily enough width for 2 cars? Total waste of taxpayers' money! In the good old days we used to fill 2, sometimes 3 cars in each lane! Driving in lanes and waiting in lines also wasted fuel and increased pollution. It was better to jump, squeeze and rush through. Survival of the fittest is after all, a well recognized saying!"
Lovely Singh (works in an MNC) gave another reason for the protest: "The jams at the Toll was very convenient. Anytime we got late to go anywhere, we would blame to Gurgaon Toll Plaza. Now who we can blame? Now only in Delhi near Subroto Park or Dhaula Kuan there is excuse, but that is normal. Gurgaon Toll jam was dramatic and anytime we could complain."
Dr. Neera Sochmore, a psychiatrist, explained this collective social emotion "Our country is today going through a social and economic revolution, resulting in empowerment all around. Earlier, only 1 out of 100 people could say "Jaante nahin, main koun hoon?" Today, 99 out of 100 people will say the same thing to jump the line."
Dr. Sochmore further added "The Toll Plaza is a melting pot, often boiling pot of these myriad people in the form of MLAs, ex-MLAs, Sarpanches, myself-ready-to-throw-punches, VIP number plate wale, no number-plate wale, and of course, the most powerful of all – the Gurgaon Aggressive Non-compliant Drivers Union (GANDU)."
Rocky Girgit, President of GANDU spoke to our correspondent and had this to say about his association. "We are a truly democratic union of people, bound by the common goal of We-First. We do not discriminate in our union, and our members come from all walks of life, and of all ages. Our members include both aam aadmi and khaas aadmi. They only need three qualifications to join: 1) A strong accelerator foot, 2) An aggressive horn hand, and 3) determination to overtake. The Toll Plaza was a great, concentrated place for our Union recruitment – it's removal is an attack on our soul, in contravention of our RTE, i.e. Right to Excitement!"
Pooja (name changed) a fashion designer who lives in Delhi and travels to an export house in Udyog Vihar where she works, had this to say "Absolutely." When prompted to explain how the drive to Gurgaon had become worse after the Toll Plaza removal, she said, again "Absolutely."
Fatinder Singe of Very Angry Association of Taxiwallas (VAAT) shared his points of protest "The Toll Plaza was a great morale booster for us. Our drivers who otherwise spend many hours alone, driving on the unfriendly streets of NCR could at least see more of their kind at the Toll Plaza. They could overtake and bully civilians easily, knowing they are not alone. Many times VAAT members displayed amazing teamwork of intimidating stupid law abiding citizens, and sometimes they even thrashed Toll Booth workers for daring to challenge our 2-cars-for-1-tag driving method!"
We spoke to the authorities, and a senior officer had this to say: "People of NCR should not worry. The Toll Plaza may have gone, but the rest of Gurgaon is yours to indulge in. Our roads will remain terrible, traffic signals will continue to be a joke, and our scarce traffic cops will continue to huddle behind metro pillars and blind turns to collect bribes for talking on the phone, no more. Meanwhile, all busy intersections and roads will be manned by the powerless private security guards who can neither stop you, nor challan you, so you can jump lights, drive on the wrong side, and intimidate whoever you like. After all, India is a free country, and you are free to do as you please!"
Note: All names and characters in this report are fictitious. Amy resemblance to anyone living or dead, is an absolute shame!