Last night we unlocked our self-imposed distancing from food takeaways with some Seoul food from Hahn's Kitchen Gurgaon. The pun is totally intended because Korean food always gives my family great satisfaction!
I ordered online via Zomato (as always), something for everyone in the family, and Korean food, with its generous portions and complex ingredients, often satiates multiple preferences with a single dish – like the Jjukumi Bokkum and Daeji Bulbaek, which is a delicious combination of baby octopus cooked in a flavourful gravy and served with grilled pork!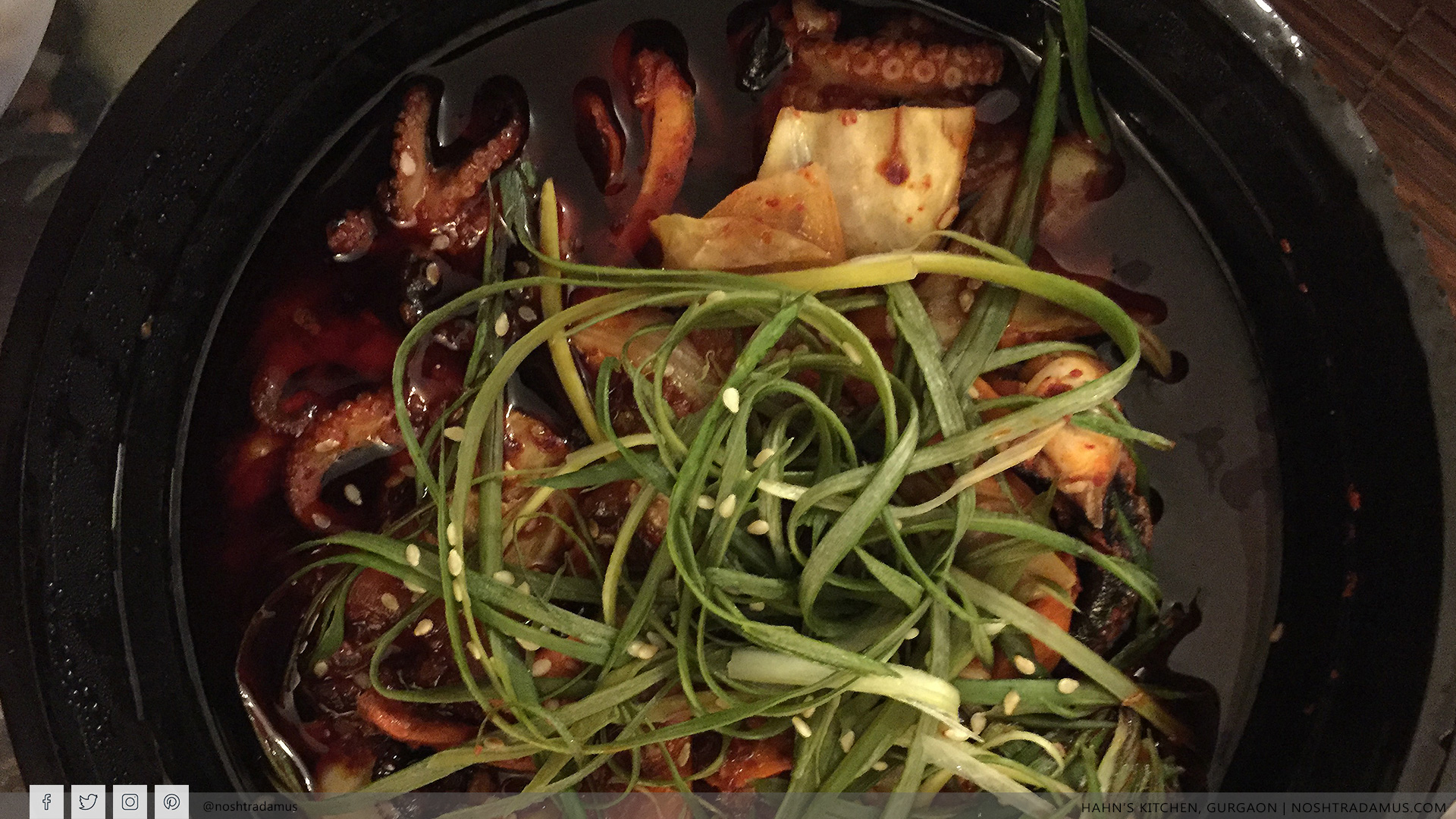 Since all four of us at home like different meats, I chose to order two sharing platters, and four individual dishes. Although, if you're not big on appetite, I suggest you avoid the sharing platters, because even the individual Korean dishes are generous sized and are served with fresh veggies, pickles, and of course, Kimchi.
Tonight, to share among us, I ordered the Jjukumi Bokkum and Daeji Bulbaek (octopus and pork mixed dish), Dakgangjung (crispy chicken bites glazed in sweet and spicy sauce, Korean street-food-style), and Pork Samgeopsal (the iconic Korean grilled pork belly).
And for each of us, I ordered different Dosirak – the Korean equivalent of desi thalis or Japanese bento boxes. Each comes with a serving of rice, kimchi, pickles, and some vegetables.
Haemul bokkeumbap and jjamppong, which is a seafood fried rice with a rich seafood soup made with mussels, prawns, and calamari. Note, the soup is a delightful meal for one in itself!
Jeyuk and Katsu Dosirak, which is a dish of spicy pork and grilled chicken cutlet, the latter being a scrumptious classic chicken Katsu.
Bossom Dosirak, which is a classic soft braised pork belly dish served with different veggies and kimchi.
Daejibulbaek and Dakgangjung Dosirak, which is a combination of grilled pork and fried chicken.
Images of the dishes are given below 🙂
Amid all this, were two dishes, which I have no clue what they were, but I guessed were part of one or two of the above. Both were outstanding in flavour, particularly the one marked Mystery Dish 1 (of 2) in my photos here. Can anyone tell me what they were, so I can order them again next time?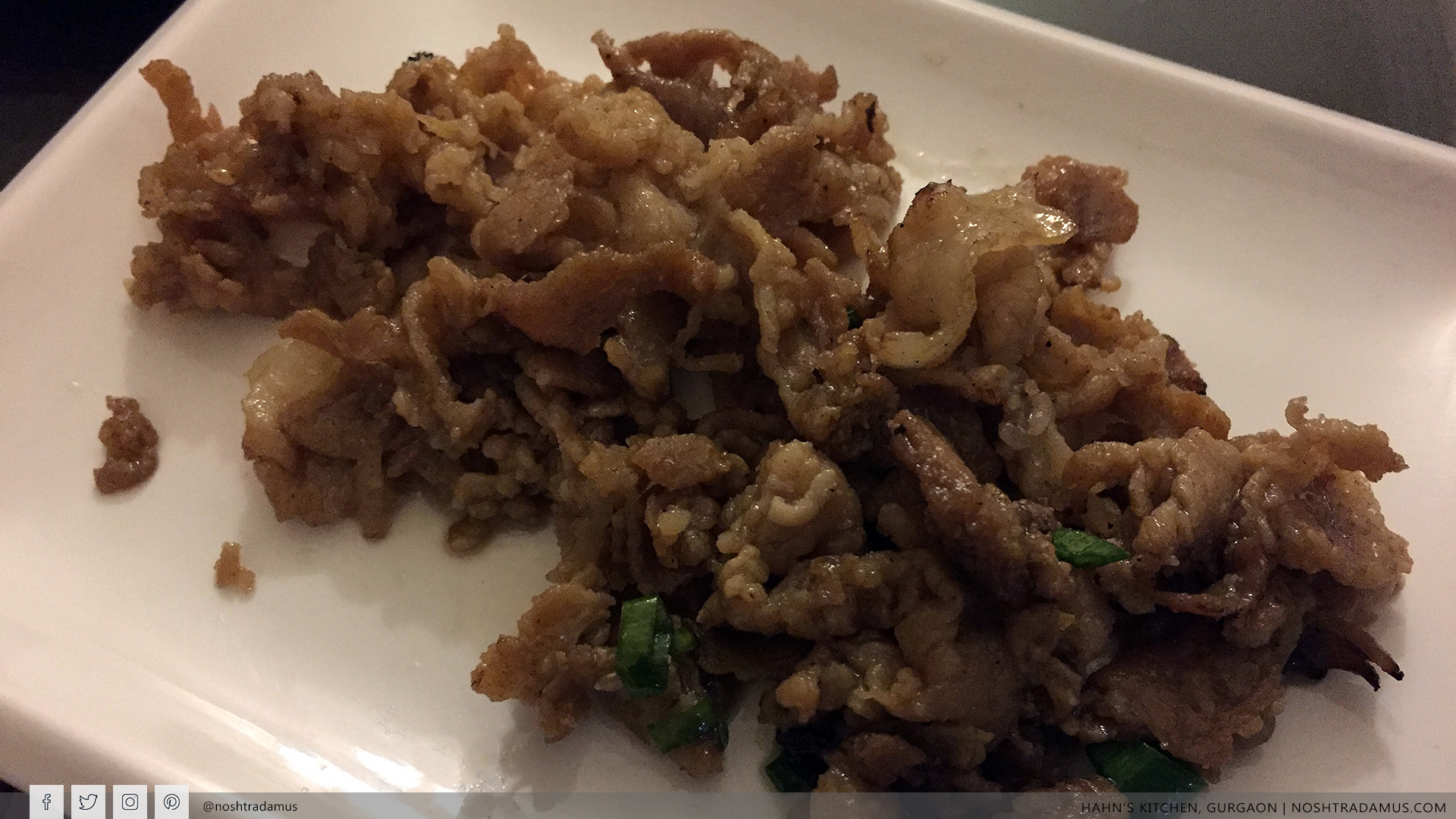 My Note 1 of advice to the folks at Hahn's Kitchen is, please tag the boxes you send, with the names of the dishes inside. And perhaps, for the uninitiated to Korean food, attach a note or numbering system that tells people what accompaniments go with which dish.
Speaking of packaging, given the fact that we're still in pandemic mode, let's talk of the safety measures involved in this order.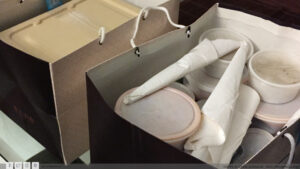 Zomato claims that Hahn's Kitchen follows WHO standards of hygiene and protection in these Covid-19 times. Which may be fine at the restaurant level, but Zomato should note that the food arrives in open bags, exposed to the environment it is exposed to during transit. So not sure if the boxes inside were safe, when I received them. So we microwaved all the packs before placing them on the table and crossed our fingers before eating!
Note 2, for Hahn's Kitchen – please seal the paper bags with a fold and a tape, so as to keep the insides covered during transit.
Overall, like the dine-in experience, we had at Hahn's Kitchen at One Horizon Centre in Gurgaon, the home-delivered food was awesome and wholesome.
And there was enough left over for us to indulge in for a second meal the following day!
---
Noshtradamus' Hahn's Kitchen Gurgaon Rating: 5/5
Flavours and Texture: 5/5
Quality of Ingredients: 5/5
Size of Portions: 5/5
Price/Value: 5/5
Packaging: 3/5
---
…