There was a time when the city of Mumbai stopped making sense to me. Its people were amazing, and everything functioned like precision-made clockwork, but the physical city itself was a stinky eyesore!
Its decaying buildings and infrastructure were constantly garnished with garbage, and getting from one place to another took forever, thanks to the teeming masses of pedestrians and vehicles everywhere.
I couldn't understand how they called it a world-class city, when it looked like a third-world slum. Like citizens in the Emperor's New Clothes story, Mumbaikars strutted around this fabled city, as if it had no fault!
But that's changing now, as I noticed on my visit to Mumbai for work, last week.
My change of heart about Mumbai, started with the incredible Terminal2 of Chhatrapati Shivaji International Airport (GVK CSIA), that makes Delhi's award-winning T3 look old and bland!
I noticed that the erstwhile backyards of Mumbai like Vikhroli and Powai, have evolved with a beautiful harmony between concrete structures and green cover. Even the Powai lake has been cleaned up and beautified with a waterfront walkway and accompanying parks!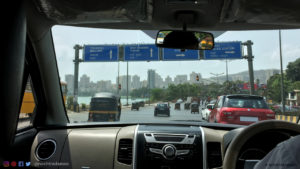 Moving around the city still takes time, but its easier with the wider roads, better traffic sense than most cities in India, and of course – Uber! I didn't have to deal with dusty Kali-Peeli cabs, or the nakhrey-waley cool cabs, and instead, hopped in and out of Ubers and got wherever I wanted to go, without fuss or robbing the bank!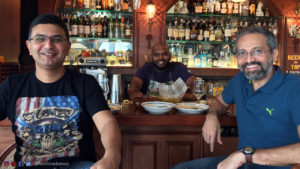 While Mumbai continues to serve great food, its restaurants and service quality has also changed for the better. In my previous visits here, most popular (iconic) restaurants were manned (literally) by ancient waiters who were either condescending or boorish, and always in a hurry to take orders, serve, and bill the customer. Now you have places like O Pedro, with its young service-staff that exudes positive energy and class, which taking care of guests with friendly efficiency. I spent a most interesting afternoon here, made delightful not just by the excellent food and decor of the restaurant, but also by the thoughtful hospitality of Isaac Thomas who took care of us from behind the bar.
All in all, I love the way Mumbai is evolving. I believe this is because the Government itself started making changes and investing in infrastructure, after recognising that Mumbai was losing out on Corporate tax revenue to newer cities like Gurgaon, and we the people are becoming more discerning about their environment and infrastructure, and we prefer wide open spaces of class and green over the take-it-or-leave-it heritage buildings of the old Mumbai.
Even corporates have started contributing infrastructure development, that goes beyond building properties for customers, to include creating value for society as well. Companies like Godrej in Vikhroli, and Hiranandani in Powai, have brought about changes that indicate Mumbai is moving in the right direction.
Maybe, one day Mumbai will reclaim the iconic title of the real gateway of incredible India. Maybe it will become a truly liveable world-class city soon.
But there's one thing I believe Mumbai isn't seriously considering fixing… and that is the garbage clearance process and the lack of civic sense around sanitation. I think, like in most parts of India, garbage is an accepted blindspot for its government and citizens. Here Swachh Bharat Abhiyan is still a slogan of intent for Acche Din, and not of genuine collective action.
That being said, I am happy to have revisited Mumbai, physically and metaphorically. I am happy to have enjoyed the suburbs and been content with my trip to this iconic city, without going anywhere near Nariman Point, or Colaba.
Mumbai you have changed. And I am looking forward to even better changes from you in the future!
---
#Mumbai #Bombay #CityLife #urbanscape #mumbaikar #maharashtra #progress #governance #csr #travel #workation #life #IncredibleIndia