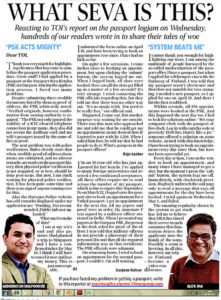 Earlier this week I visited the Passport Seva Kendra in Gurgaon to get my passport reissued, since a) it was expiring in September this year, and b) my permanent residence address has changed.
The experience itself was quite smooth, despite my apprehensions of dealing with 'babus' – albeit in an outsourced avatar. The online application system was smooth and very encouraging. Not only could I submit my application online, I could also take an appointment, as well as upload all the supporting documents needed to get my address changed.
I had four of the twelve documents required as proof of address, and I uploaded them in the required format.
But when I got to my 'appointment' at the Passport Seva Kendra in Gurgaon, the reality of India's unfortunate trust deficit began unfolding.
NOT ONLY DOES THIS GOVERNMENT DEPARTMENT NOT TRUST DOCUMENTS ISSUED BY PRIVATE CORPORATE ENTITIES, IT DOES NOT ACKNOWLEDGE ANY OF ITS OWN!
How else can you explain that after I submitted all these documents and got them verified by the "authorities" inside, I find my file marked for "pre issue police verification!
The documents included:
1. Landline and mobile telephone bills for the past one year, and containing my address, verified by the service providers' stringent KYC rules (they wouldn't activate connections without all info, thrice verified!).
2. My Aadhaar card, which is an official document, on which the government of India is putting so much importance, and where it is in my interest to get facts right, as it is the way I will receive 'subsidies' and other government benefits!
3. A copy of my wife's Passport issued by the same passport office and verified by the police earlier!
The point is, what's the use of KYC, other official documents, and even Police verification, if they're not going to be accepted as the proof they're intended to be?
And the irony is, that the Policeman who will land up at my place to "verify" me, will use the same documents, along with handwritten declarations of two neighbours, who he won't meet!
Similarly, I remember trying to get my new car registered, and discovered the Haryana RTA doesn't accept registration certificates issued by its own office as proof of address – I was trying to register my new car with the same name and address as my old car registered in Haryana a couple of years back!
I may have taken the examples of the Passport Office (which is supposed to be one of our fastest and most efficient official departments) and the Regional Transport Authority (the less said about it, the better) – but they're symbolic of the problem that exists across the board.
The question is, when will the Government of India standardize and recognize identity documents in the same manner across departments and geographies?
The question is, are we so untrustworthy as a people, that no document is taken at face value, unless physically verified by a "trusted" policeman?
Speaking of which, the status of my Passport application has changed to "Pending for physical police verification at your respective Thana under SP Office, District Gurgaon."
And I await the verification visit, totally at the mercy of the whims and "workload" of the system.
If you have such examples, of processes that are either redundant, or designed to give 'the system' unfair power rather than be fair, please share them – here, or on any other platform you seem fit.
We cannot continue to live, as they say "bhagwan bharosey"!
Note, Wednesday 1st May 2013. An article on the same subject appeared in The Times of India today, highlighting the issues faced by the common man in getting a Passport Issued/Reissued. You can read the full article by Manimugdha S Sharma here: please click here to read the story.
In response to the article, I wrote to the TOI (see article picture) and they published my letter in The Times of India, here: please click to read.