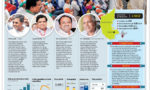 Are economic policies and promises really based on inclusive, intelligent thinking? Or are they driven by popular sentiment and political ambition?
Well depending on who you ask, you will get different answers, but our political representatives, both in and out of power, will tell you that their decisions are based on inclusive, intelligent thinking (naturally).
Sadly, since there are so many variables and stakeholders involved in our country, most of the time it is difficult to really pin down what's economic and what's politically motivated.
Until you look at Party Manifestos.
I discovered this gem, in the Mint yesterday, in two articles on the upcoming elections in Karnataka. One titled "Cong may capitalize on BJP woes" and the other titled "Four-Way Tie". The articles described with great detail and insight, the issues faced by the four political parties which are the main contenders here. These include the 'big two' which are the Congress (Cong) and the Bharatiya Janata Party (BJP) as well as the Janata Dal Secular (JD) and the Karnataka Janata Party (KJP) started by former BJP leader BS Yeddyurappa.
Then there was a summary of each party's Manifesto (see picture). Where the 5-odd points listed under each, was a clear reflection of the politics of economics!
Each party manifesto starts with a freebie or a socio-economic sop. And then some go on to list development work, while some continue to offer sops. (in a undisguised attempt to sway votes in their favor, irrespective of economic prudence?).
The Cong starts with 2 freebies, one ambiguous 'better regional connectivity' point, and 2 development related projects. (they sense a weak BJP and need sops to get a foot in, and then some work to stay in power).
The BJP which is weakened by the exit of BSY and his Lingayat voters, is lists 3 freebies, reservation for women, and one ambiguous point of 'quality English lessons'.
The JD lists 4 sops/promises, with one ambiguous point of 'Mandatory English medium from 5th standard in govt schools.
The KJP on the other hand, having proven itself over the years on development (which detractors will debate, of course), lists 4 sops its manifesto, along with the commitment to set up a cooperative bank exclusively for women.
There you have it. There will surely be more items in their Manifestos, and it could be just a case of "haathi ke daant" – but if this is what they're projecting, and this is what the people (and newspapers) pick up and use… you know for sure how the politics of economics works in India!